Law Firm Website Design in Massachusetts
How to Get the Very Best Law Firm Website Design in Boston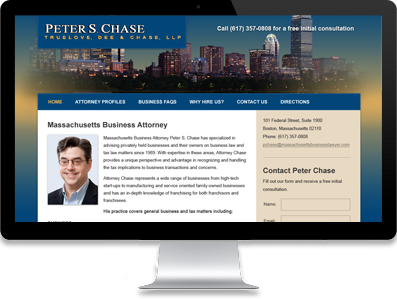 When someone sits down at his computer, opens up Google and types in a search phrase in hopes of locating a business, you want your company's website to be one of the first ones that he sees and opens. Then, at that point, you want this person, who happens to be just one individual within the stream of your website's targeted traffic, to find find everything he is looking for all right there within your website. Ideally, he will look no further, but will go on to initiate contact with your business itself. This is but one example of how search engine optimization (SEO) is supposed to work. From the prospect's view, all of the information he needed came to him with ease. Yet, much specialized knowledge and technical skill was at work behind the scenes to create that easy experience!
In order to create such a positive experience for a company's potential clients, a number of different tools and strategies are employed. The first thing that is required is a fast loading, clean and attractive website, one that delivers the desired information easily and concisely. Next, the installation of Google Analytics is necessary in order to generate statistics about the origins and habits of your website's traffic. Other components include things such as the establishment of genuine inbound links, a Google AdWords campaign, strategic keyword and key phrase placement and the establishment of a social media presence using such media as Facebook, YouTube, Twitter and others. (A social media presence is all but prerequisite today in order to receive a high search engine ranking.) All in all, there are over 200 different variables that go into creating a smooth experience for a company's targeted traffic.
Then there is the issue of tailoring the SEO for your particular industry and business. There are hundreds of area companies that offer professional web design, but only the best web design companies in Boston provide the kind of comprehensive attention to detail that takes into account not only your business, but those of your competitors, as well. A systematic and thorough analysis of your competitors' online marketing tactics yields customized SEO which produces the sort of Law Firm Web Design that sets your firm's website apart from the rest, enabling it to gather a greater share of the available targeted web traffic and also to reach your ultimate goal of converting that traffic into new clients.